LEGO Friends Advent Calendar
#41131
Piece Count: 218
Year: 2016
This set was provided by the AFOL Relations & Programs team (AR&P) of The LEGO Group for the purpose of sharing set details with fans.
Opinions provided here solely reflect those of our reviewer.
Photographs are property of Friends Bricks and are not directed by TLG in any fashion.
It's December 1st, so the time is finally here to open the advent calendar!
Let's flip the box to see the back!
The box has the
playmat and backdrop for the fun holiday scenes you create.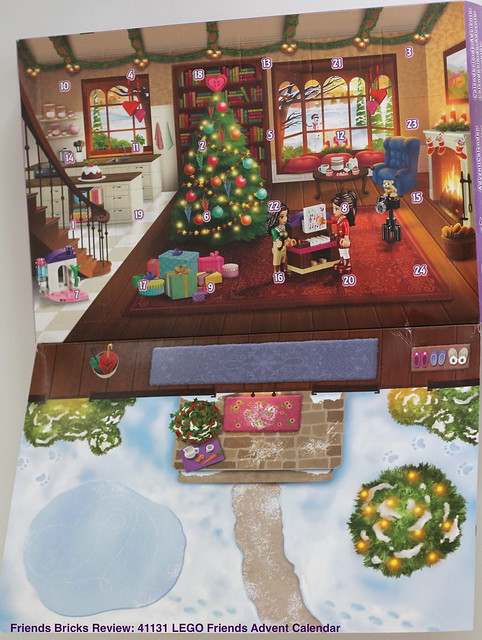 LEGO Friends started in 201
2
, so this is the 5th LEGO Friends Advent Calendar.
I thought it might be fun to show you what we got in the advent calendars in the past. Do you remember these?
Now let's open this year's advent calendar!
Day 1:
It's Emma! She is the last of the five Friends to appear in an advent calendar.
Her exclusive jacket is cute, and this kind of dark green is rather uncommon in her wardrobe.
Now that Emma is here, we have all five Friends!
Whose holiday outfit do you like best? I personally think Andrea's is the most fashionable.
Day 2:
Today's door reveals...
Two pairs of ice skates and a small stool/bench! Extra pieces are shown on the bottom right corner.
We got pretty much the same things last year, but this year's door contained slightly more!
See you again here tomorrow!